Oireachtas Women 1918-2008 Event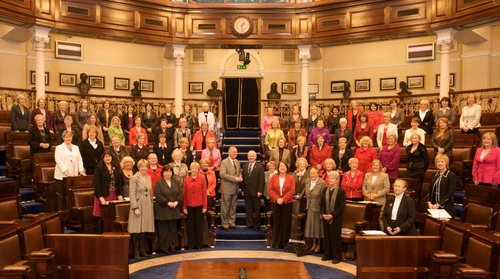 Senator Ivana Bacik, Independent Dublin University Senator, organised an event in Leinster House to commemorate the the 90th anniversary of the 1918 election (held on 14th December 1918), the first election in which women had the right to vote, and in which Constance Markiewicz was elected as the first woman TD and MP.
The event, 'Oireachtas Women 1918-2008', consisted of a ceremony, that took place in the Dáil Chamber on 9th December. All living former and current women TDs and Senators were invited to attend the Chamber at 1pm on 9th December for a photograph and the reading of a speech by Constance Markiewicz.
For more details on the event, please click on the links below:
Senator Bacik announces event to mark 90th anniversary of Women's Vote and Markiewicz Election - press release
Schedule Of Events, click here
Fact Sheet, click here
List of Former Members in Attendance, click here
List Of Current Members in Attendance, click here
Speech by Constance Markievicz, click here
Acknowledgments, click here