Submission to the Dublin City Development Plan 2022-2028
22 February 2021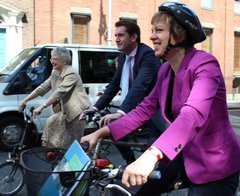 Senator Ivana Bacik
Submission to the Public Consultation on the Dublin City Development Plan 2022-2028
22 February 2021
Theme 1: Shaping the City:
There is a significant shortage of housing, particularly long-term housing, in the area and throughout Dublin City; it is vital that in shaping the city into the future, the housing stock available must be greatly increased so as to alleviate our housing and homelessness crisis. However, construction of housing must contribute to the creation of sustainable communities, particularly in Inner City areas; and increased provision should be made for families to live in the inner city, if compact growth is to be achieved. Where construction of taller buildings is carried out to achieve greater population density in urban areas, this must be facilitated in carefully selected locations, where any adverse effects on local communities, and on sunlight, winds and overlooking may be mitigated, and where a clear need is identified for such types of building. Any such development must also be built to a high quality, as set out by DCC, and must be built with a view to promoting sustainability and community.
Theme 2: Climate Action:
There must be a focus on carbon removal from the atmosphere, where possible, through the planting of indigenous trees and appropriate plants. As a Senator for Dublin University, I commend Trinity College Dublin's planting of a wildflower meadow on its grounds and suggest that the Dublin City Development plan adopt a policy of planting pollinator-friendly trees, plants and flowers throughout the city too.
Theme 3: Quality Housing and Sustainable Neighbourhoods:
The Development plan must address the lack of housing, and lack of affordable and social housing, as well as the need to promote sustainable communities in Dublin. DCC must not enable the construction of sub-standard accommodation, or of unsustainable housing models, such as co-living and the use of student accommodation to house the general population. Similarly, there must be a proactive stance taken against the use of short-term lets using websites and apps designed to facilitate the renting of tourist accommodation. DCC must build public housing on public land; must avoid the sale of public land; and must utilise compulsory purchase orders, where possible and appropriate, to return land to public ownership.
Theme 4: The City Economy:
Dublin City must be accessible to Dubliners of all incomes. A diverse variety of activities must be made available. Planning for post-Covid-19 must take into account the need for open, accessible public spaces. DCC is to be commended for seeking innovative ways to make greater use of open spaces for civic events.
Theme 5: Sustainable Movement and Transport:
The Development Plan must prioritise safe walking, cycling and public transport, including through extension of the Dublin Bike scheme to service a greater portion of the City.
DCC is to be commended for recent improvements in cycle lane infrastructure and in adopting bicycle-friendly initiatives during the Covid-19 pandemic. However, more innovative ways to encourage greater use of bicycles should be adopted. More investment in cycle lanes is urgently needed; for example, cycle lanes along the city quays and around Stephen's Green often end abruptly, leaving cyclists forced into the middle of vehicular traffic. This should be addressed through increased provision of contra-flow cycle lanes, like that in operation on Nassau street.
In addition, a change in traffic lights sequencing is needed to provide for a delayed start for motor vehicles from a red light; so as to give cyclists a safer period of time (merely 20-30 seconds can make a difference) to move off from before cars are given a green light to go (as in other European cities).
Finally, investment in Luas tracks should be made, by putting infill within the track ruts, so that they do not continue to pose such an immense danger to cyclists; currently multiple accidents and injuries to cyclists are occurring due to bicycle tyres getting caught in Luas tracks.
Data on air pollution in Dublin must be utilised to develop a strategy to discourage unnecessary motor travel, while acknowledging that for some City residents, particularly those with impaired mobility, motor vehicles may represent a vital form of transit. Indeed, any planning for transport and other public facilities throughout the City must ensure that the needs of persons with disabilities and/or impaired mobility are met, and that public transport and amenities are accessible to all.
Theme 6: The City, Urban Villages and Retail:
The Development Plan should provide strong support for public markets. The development of transport strategies must also aim to make Dublin's villages destinations in and of themselves, as opposed to commuter throughways.
Theme 7: Green Infrastructure, Open Space, Recreation and Natural Heritage:
The Development Plan should ensure that there is equitable access to green spaces across the City. For example, there are fewer green playing pitches in Dublin 6 than in other regions. Furthermore, and in the context of the current public health need to promote outdoor spaces, the Development Plan should assess the street furniture (electricity boxes, signposting, etc) of the City to increase the quality of the public realm. In areas where houses/apartment complexes have limited access to private gardens/courtyards, priority should be given to ensuring that children living locally have access to public space for recreation, including playgrounds and sport facilities.
Theme 8: Built Heritage and Archaeology:
An audit should be undertaken of the City's buildings older than 75 years, with a view to placing some on the list of Protected Structures.
Theme 9: Culture:
The Development Plan should promote a wide range of accessible, cultural activities for all ages. It must give serious consideration to the need to promote a healthy night-life in the City and to identify and promote night-time activities that do not necessarily promote the consumption of alcohol.