Calling for urgent action on UN Human Rights Committee Ruling on Abortion
Posted on June 15, 2016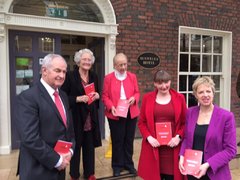 Speaking this morning in the Seanad, Senator Ivana Bacik called for an urgent response from the Taoiseach and the Government to the ruling last week by the UN Human Rights Committee that Ireland had breached the rights of the applicant Amanda Mellet due to the prohibition in Irish law of termination of pregnancy under the Eighth Amendment, even in cases of fatal foetal abnormality.
Commending Amanda Mellet and the Termination for Medical Reasons group for their courage in taking their application to the UN and in raising the issue of fatal foetal abnormality, Senator Bacik said:
"I am concerned that the Taoiseach is downplaying the significance of the UN Human Rights Committee ruling. I have real concern that the citizens assembly he is proposing is simply a way of delaying any meaningful response to the ruling. It is clear from the ruling, and from all the cases that we have seen over the years, that we need to repeal the Eighth Amendment, and we should hold a referendum to do so without any further delay. After all, the Taoiseach did not need a citizens assembly before he held a referendum on Seanad abolition."
"I am also concerned that if the matter is put to a citizens assembly, its work should be subject to a tight timeframe. We should not need to wait for yet another tragic case before we put the decision to repeal the Amendment to the people by way of referendum."