Seanad Register - Update your contact details
Posted on August 05, 2015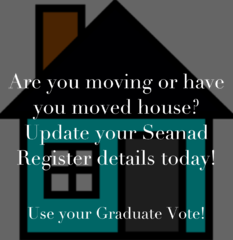 Have you moved house or are you moving house in the near future?
To ensure you can use your Graduate Vote in the Seanad Elections please make sure the Academic Registry have your up-to-date details. 
I have noticed when I send out my seasonal Newsletter that there are a lot of returns from 'Unknown Occupant' addresses. 
Check the register today and ensure that as a Trinity College Dublin graduate you are registered to vote and kept in the loop on Alumni news.
https://www.tcd.ie/academicregistry/seanad/