Order of Business: Justice For Clerys Workers - Workers Rights
Posted on July 02, 2015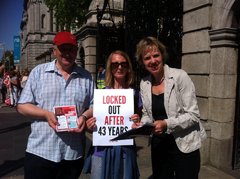 Seanad Eireann - Order of Business 
Wednesday, 1st July 2015

Yesterday in the Order of Business I used the opportunity to raise the issues and call again for a much needed debate with regards to the Clery's workers. 
"We might also have a general debate in due course on industrial relations with regard to business closures and having respect for workers. The Minister of State, Deputy Nash, was in the House yesterday dealing with the Industrial Relations (Amendment) Bill. I, along with many colleagues, met some of the former Clery's employees outside Leinster House yesterday. Those employees were treated with immense disrespect by the new owners of Clery's. Along with many colleagues, I signed a petition in support of the former employees who are seeking a meeting with Natrium, the new company with ownership of Clery's, and asking that it treat them with greater respect. We must ensure there is greater respect for both the employees and the concession holders, who were also so badly treated in the very sudden closure of Clery's, which was carried out without notice. I believe we can achieve cross-party consensus on the need to reform industrial relations in that area."