62% Voted in Favour of Marriage Equality!
Posted on May 25, 2015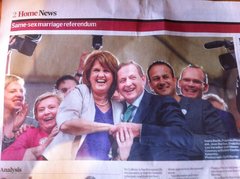 Ireland said Yes to civil marriage equality for same-sex couples! 
In what can only be described as a landslide victory we saw a huge turnout around the country - 62% voted in favour of extending civil marriage to same-sex couples. 
It was a great day for Ireland, for democracy and for every Lesbian, Gay, Bisexual and Transgender person and their friends and families. 
http://www.irishtimes.com/news/politics/same-sex-marriage-may-be-legal-by-september-1.2224563
Irish Times coverage Monday 25th May 2015.
Work will begin this week to give effect to the referendum decision to amend the Constitution with the first same-sex marriages likely to take place as early as September.
Tánaiste Joan Burton said legislation would be brought before the Seanad and Dáil as early as possible, with the aim of getting it passed before the summer recess.
"That would mean that we would be in a position to have same-sex marriage celebrations, civil ceremonies by, probably, September," she told reporters at the AfricaDay celebrations in the Phoenix Park.
The Constitution will be formally amended in the coming days when President Michael D Higgins signs the Marriage Equality Bill into law, and a new sentence will be added to article 41 stating: "Marriage may be contracted in accordance with law by two persons without distinction as to their sex."
The amendment was approved by more than 1.2 million people, or 62 per cent of voters, with a 60.5 per cent turnout. Roscommon-South Leitrim was the only constituency to reject the amendment. The proposal to reduce presidential candidates ' age was defeated.
The approved amendment means same-sex marriages will have the same status under the Constitution as a marriage between a man and a woman.
To give effect to the amendment, the Oireachtas will enact the Marriage Bill 2015, which will state in law the principle that being of the same sex is no longer an impediment to marriage. It will also make clear that religious solemnisers will not be obliged to solemnise the marriage of a same-sex couple, and that the same prohibited degrees of relationship will apply to same-sex marriages.
Receiving the Tipperary International Peace Award last night, the UN secretary general Ban Ki-moon said: "The result sends an important message to the world, all people are entitled to enjoy their human rights and human dignity, no matter who they are or whom they love."