Date for your diary - King's Inns annual debate on Marriage Equality
Posted on February 02, 2015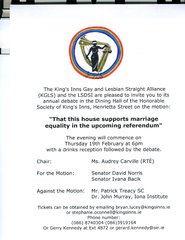 "That this house supports marriage equality in the upcoming referendum"
The King's Inns Gay and Lesbian Straight Alliance (KGLS) and the LSDSI annual debate in the Dining Hall of the Honorable Society of King's Inns, Henrietta Street.
Date: Thurday 19th February
Chair: Ms. Audrey Carville (RTE)
For the Motion: Senator Ivana Bacik and Senator Davod Norris.
Against the motion: Dr. John Murray, Iona Institute and Mr. Patrick Treacy SC.