Education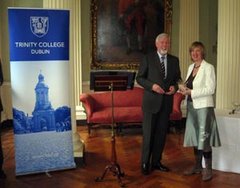 As a teacher I am passionate about education. Education is the key to removing inequality and disadvantage in our society. Access to third level education is deeply unequal. The recent report by UCD academic Prof Clancy laid bare the deep inequality that exists. For example, 77% of school leavers in Foxrock go on to 3rd level education, while only 14% of school leavers in Dublin 11 gain access to 3rd level. Positive action is necessary to increase the participation of students who are denied access to third-level education due to economic and social disadvantage.
In the Law School in Trinity College I initiated a scholarship scheme to increase the participation rate of working class students. That programme now applies across the college and is an intrinsic part of the Trinity Access Programme (TAP). It has achieved real results. I am determined to ensure that innovative programmes that tackle educational disadvantage are part of education policy at every level, primary, secondary and 3rd level.
Pictured: Ivana receives a Provost's Teaching Award from Provost Professor John Hegarty, Trinity College, May 2006
It was a pleasure to launch the National Print Museum seminar: "Protest through Print: Women's Suffrage and Print Media Centenary Seminar" as part of the excellent exhibition Print, Protest and the Polls.

I highly recommend visiting the exhibition before it ends next month.

More information available on the Print Museum's website https://www.nationalprintmuseum.ie/print-protest-and-the-polls-the-irish-suffrage-campaign-and-the-power-of-print-media/

 
Almost 30 years ago, I was threatened with prison by SPUC (Society for the Protection of Unborn Children). It was September 1989. I was president of Trinity College Dublin Students' Union (TCDSU), and SPUC were seeking to imprison our four TCDSU sabbatical officers for providing information on abortion in our students' union handbooks during Freshers' Week.

A few years previously, the 1983 Eighth Amendment had been passed, equating the lives of "mother" and "unborn".
I also call on the Leader to facilitate a debate with the Minister for Education and Skills in the House on the Cassells report. Like other speakers, I believe it is a very urgent and important issue, and one which we should debate in the House, in particular because six Senators represent university constituencies.