Convictions for Certain Sexual Offences (Apology and Exoneration) Bill 2016 (Labour Party PMB): Second Stage Wednesday, 1 February 2017
2 February 2017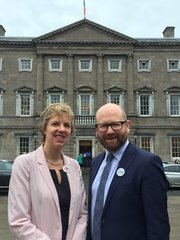 Senator Ivana Bacik: I welcome the Minister of State, Deputy Stanton, to the House. I commend my colleagues in the Labour Party group, Senators Nash and Ó Ríordáin, on proposing and seconding this important Bill. I am very proud to stand as leader of the Labour Party group and speak in support of these proposals. There is no need for discord in this debate because we are all on the same side, which has not always been the case in respect of important social issues since I have been a Member of this House. It is great to see the Bill being supported on all sides of the Chamber. While we might disagree about how much or how little remains to be done or about the tone of the debate, we are all in agreement on the need to ensure we build on the equality measures that have already passed over successive years, another of which we are celebrating today. On behalf of the Labour Senators, I thank the Minister of State for his very comprehensive comments on the Bill. It is fair to say we will take on board the comments he has made and we look forward to the expeditious progression of the Bill through this House and the Dáil. We note his comments about the Bill's potential consequences, particularly the need to ensure that victims are not in any way compromised, which is very important.
I note also the importance of the Criminal Law (Sexual Offences) Bill 2015 which will be debated in the Dáil tonight and tomorrow and which will return to the Seanad next week. However, the Bill is declaratory; it does not seek to expunge convictions from the record but acknowledges the wrong done to so many men over so many decades in the past through being convicted of acts that are no longer criminal and which were consensual and did not involve persons under the age of 17. The legislation is very clear about that and it provides an apology and exoneration to those who were convicted in the past who may no longer be alive.
The Minister of State referred to the Turing law, which is coming into force in Britain this week and which allows for posthumous pardons for those convicted of these offences and who are now dead and for an application procedure for those who are alive but who still carry convictions in respect of offences which are no longer known to the law. It also allows for statutory pardons. As the Minister of State said, the law in question involves a very different and cumbersome application procedure. The Bill before the House has a very different purpose.
The Minister of State also raised interesting procedural points about past offences under the law of Saorstát Éireann. I am sure we can debate these on Committee Stage. The important point today is to celebrate the fact that we are all here in support of this Bill and the important principle it contains, which will make a real difference to so many people.
Many Senators have paid tribute to Senator David Norris and his work. He has sent a personal message that he is very sorry he cannot be here. Just recently, I had the privilege of hearing Senator Norris speak very eloquently about his experience of taking the famous case which led to the European Court of Human Rights judgment and, ultimately, to decriminalisation in 1993, a matter about which others have spoken. Senator Norris also spoke publicly at a meeting we held in Trinity College - I had never heard him speak about this before - regarding his work providing character references, along with many other people, for men who were being prosecuted in the courts of this country in the 1970s under the 1885 Act for offences such as that relating to gross indecency, about which Senator Ned O'Sullivan spoke. Subsequently, we published some of the transcripts of those hearings. This had a very real effect on so many individuals.
In the appalling judgment he delivered in the Supreme Court in the 1980s in the Norris case - a judgment recently described as the worst ever delivered by the Supreme Court - the then Chief Justice O'Higgins spoke about the damaging practice of homosexuality and the fact that he regarded it as harmful to both the institution of marriage and the health of individuals. This was appalling language which had no place - or rather should have had no place - in 1980s Ireland and which, of course, has no place in the Ireland of 2017. Looking back at this, we can understand the radical transformation that has come about in the lives of LGBT people in Ireland in recent decades since decriminalisation occurred in 1993 and the other statutory changes that we detail in the explanatory memorandum to the Bill. The level of statutory change has been immense and culminated in the wonderful, historic passage of the marriage equality referendum in May 2015, about which we have all spoken. Ireland was the first country internationally to pass marriage equality by way of popular vote. That was hugely significant.
There are legacy issues, however, and Senator Ruane referred to these. The issues in question relate to anomalies in our laws. The Bill seeks to address one of these, namely, the fact that there are still people living in Ireland who carry convictions on their records that they should no longer have to carry. The State should acknowledge and address that matter. That is what we seek to do in the Bill. There are other anomalies too, and Senator Ruane spoke of these also. She referred to the case of David Parris, also a Trinity College colleague of mine, before the European Court of Justice. Unfortunately, the case did not result in the change in the law he had hoped to bring about whereby, again, an anomalous discrimination would have been cleared up. The Pensions (Amendment) Bill, which I published before Christmas, which I hope we will debate in the House before too long and which I hope the Government will also support, would address this anomaly and legacy issue for a very small number of LGBT individuals whose partners will not be eligible under current law to qualify for survivor pensions due to what is called an anti-gold digger clause in pensions that requires people to have married before a particular age. In David Parris's case, the Trinity College pension scheme stipulates the age of 60. He reached the age of 60 before he was legally able to marry or enter civil partnership with his long-term partner. This is all very much on the public record. I hope the Pensions (Amendment) Bill will be supported by the Government.
These are legacy issues. Happily, in Ireland we have moved to a position where we can talk about huge progress, radical transformation and equality. We do have to be mindful, as Senator Warfield so eloquently said, that there are many LGBT people living in countries such as Uganda and Russia and many other countries around the world where there is no such equality and where people still live in fear of expressing their sexuality. Even in Ireland, my colleague in Trinity College, Professor Mark Bell, recently published on the ongoing concerns about ongoing discrimination in the workplace that LGBT persons, particularly transgender persons, in Ireland experience. In 2013, the Fundamental Rights Agency survey of Ireland found 20% of LGBT people across the EU reported experiencing workplace discrimination. In Ireland, the figure is 18% but rose to 29% among transgender people. The LGBTI Ireland report for 2016 made similar findings, with 17% of respondents saying they had experienced LGBTI bullying in their workplaces. Therefore, we need to be mindful of the real-life experiences of LGBT people and the fact that legal change does not always bring about the desired cultural change or have the same impact on the ground. We must be mindful that if one looks at Equality Tribunal decisions, one finds very few cases being taken relating to discrimination on the grounds of sexual orientation, despite relatively high levels of reporting of such discrimination. Clearly, therefore, there is a disconnection between people's experiences of discrimination and their willingness to take cases. We must be concerned about whether people still feel they have to be silenced in some way about their sexual orientation.
Our Bill started life as Private Members' legislation to amend section 37 of the Employment Equality Act, which I introduced in the previous Seanad and which culminated in the passage of the Equality (Miscellaneous Provisions) Act 2015. This is an important change that will, we hope, end the chilling effect particularly for LGBT teachers and employees in religious-run workplaces. Clearly, however, there is still much work to be done to change the culture.
On that cautiously positive note, I again thank the Minister of State for expressing his support for this important Bill and thank all our colleagues. Senator Nash will conclude the debate and will also thank everyone, but I thank everyone who has spoken so far for expressing the strong support of their own parties or groups for this important legislation.