Press Release: SENATOR BACIK TO INTRODUCE NEW BILL ON WORKERS' RIGHTS
20 January 2016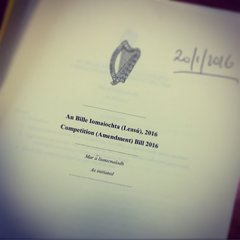 SENATOR BACIK TO INTRODUCE NEW BILL ON WORKERS' RIGHTS
Wednesday 20th January, 2016
In the Seanad today, Senator Ivana Bacik will introduce the Competition (Amendment) Bill 2016 on behalf of the Labour Party Senators, as a private members' bill. Senator Aideen Hayden of Labour will second the Bill.

This Bill stems from a longstanding Labour party commitment to ensure protection of the right to collectively bargain for freelance workers, including journalists, actors and others who perform their work on a self-employed or contract for services basis. It is in keeping with a commitment contained in the Labour document 'Standing Up for Working People' (January 2016) and is modelled on a bill published in 2012 by Labour TD Emmet Stagg.

Speaking to propose the Bill today, Senator Bacik will say:
"Under competition law, currently every self-employed person is considered to be a separate independent economic undertaking. If one self-employed person combines with others to set prices for their services, they can be accused of an illegal anti-competitive practice. At its most extreme, freelance journalists in a newsroom would be barred from bargaining collectively with their common employer about their wages. That is the understanding in Irish law under the Competition Act 2002, and that is what this important Bill seeks to change.
"The Bill will allow self-employed workers, such as actors or journalists, who personally provide work or perform services, to collectively bargain with their employers. However, the Bill is narrowly drafted so as to ensure consumers remain protected from illegal price-fixing. I know that many unions, such as the NUJ and SIPTU, have sought the change in the law that this Bill will achieve; and that they will welcome the introduction of this Labour private members' bill this evening – it marks an important advance in the protection of vulnerable workers."
Senator Ivana Bacik, Labour Leader, Seanad Spokesperson on Justice,