Labour Party Perspective on Brexit
Posted on March 30, 2017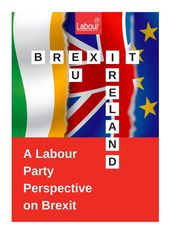 Today is the day that British Prime Minister Theresa May triggers Article 50. She will address the House of Commons on the issue within the next hour. The Seanad's Brexit hearings are a welcome initiative, but we also need to consider raising the issue of Brexit in other debates in the House. Yesterday, we in Labour published our detailed Brexit policy, outlining 20 concrete actions that the Irish Government should be taking. We expressed our concern at the lack of detail from the Government regarding what it proposed to do as the Brexit negotiations got under way. What positions will it take?

The Government needs to ensure that adequate money - €1 billion from the rainy day fund - should be deployed for the capital investment likely to be needed as a result of Brexit. A €250 million Brexit trade adjustment fund should be set up to support directly Irish businesses that suffer because of trade upheaval with the UK. New transport connections will be needed, in particular at major ports and airports. Others have pointed to the instability in Northern Ireland. The prospect of Brexit negotiations is not helping that situation. A special status for Northern Ireland needs to be incorporated in the negotiations. At a minimum, a new Irish protocol to the EU treaties recognising the common travel area, the Good Friday Agreement and the unique situation of the Irish Border must be negotiated.

There have been disturbing signals about what might happen because of Brexit. In an article in today's The Irish Times, Ms Patricia King points out the downward pressure likely to be applied as a result of the UK no longer having to observe minimum terms and conditions of employment as set down in EU treaties. The concern is that there will be a race to the bottom among Irish businesses. Pressure will be placed on Ireland and other EU countries to reduce the quality of workers' terms and conditions.