THE CASE FOR REPEAL OF THE EIGHTH AMENDMENT MY SUBMISSION TO THE CITIZENS' ASSEMBLY 14 th DECEMBER 2016
Posted on December 14, 2016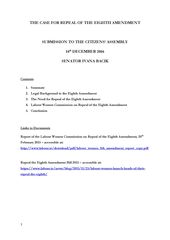 Summary
Each year, thousands of women travel to England from Ireland to access terminations of pregnancy; 3,451 women made the journey in 2015 (63 per week; 9 per day).
Over 160,000 women have travelled to England from Ireland since the Eighth Amendment was passed in 1983, inserting Article 40.3.3 into the Irish Constitution. Between January 1980 and December 2013 alone, over 150,000 women travelled from Ireland to access abortion services to another country.
For women who have difficulty in travelling abroad, due to legal status, youth, or poverty, termination of pregnancy is much more difficult to access, and likely to be carried out later in the term of the pregnancy.
While the Eighth Amendment remains in place, it is not effectively possible to legislate for abortion on any grounds other than a risk to a woman's life.
The current legal situation does not address the health needs of Irish women and has had the effect of putting lives at risk, as in the case of Savita Halappanavar in October 2012.
The language of the Eighth Amendment has given rise to many tragic human situations, and immense legal difficulties in a series of hard cases involving vulnerable women over the 33 years since its enactment.
The Constitution is no place to regulate a complex and sensitive matter like abortion. The Eighth Amendment should be repealed in its entirety so that the Oireachtas may legislate to regulate the conditions under which abortion can legally be provided in Ireland.