#CampusLife - International Students & votes from abroad
Posted on April 14, 2016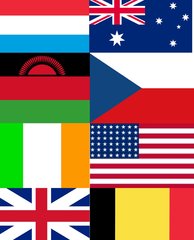 Trinity life for International Students - Thank you to those who have graduated and voted from abroad
I grew up in Cork but the family moved to Dublin when I was 14, so throughout my time as a Law student at Trinity, my family home was in Dublin – and for all Dublin students, it is great to have family support close by. So I know it can be very difficult for international students who may have travelled long distances to study in Trinity, far from their family homes. In 1989/90, when I was President of Trinity Students Union, and student welfare was a big priority for us, we kept an open door policy and all of us as SU officers worked hard to ensure students had as much support as they could get, particularly international students.
International Students are to this day very important to the Trinity community - I want to wish you all best of luck with the exams. Also to say a great big Thank You to all those Trinity alumni who have moved abroad following graduation, who are voting now from Australia, the US and Africa, among other places - and who have already given me their No.1 vote and sent kind messages of support! If re-elected, I hope to continue to raise any issues that you as graduates living abroad would like me to raise in the Seanad. Thank you!
 Luxembourg, Australia, Malawi, Czech Republic, Ireland, Northern Ireland, U.S, England, Scotland, Wales, Germany and many more. Countries from where I have received personal messages of support and No.1 votes!