From the Archives: Hot Press - 'Bacik to Basics' 23rd July 1997
Posted on March 14, 2016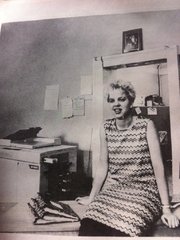 From the Archives: Hot Press - 'Bacik to Basics' 23rd July 1997 
Here is an article from 1997 courtesy of 'Hot Press' magazine, highlighting some of the starting points of my political activism and before entering the politcal representative arena, little did I know?! But I've revived this piece as it captures the essence of why I got involved in politics in the first place - to make a difference, to put equality on the agenda and keep it there! It frustrates me greatly of course that 27 years later and we're still fighting for abortion rights, but we must not give up till women stop dying or being forced into heartbreaking, potentially dangerous and vulnerable positions due to the lack of free, safe and legal access. I hope you'll give me your No. 1 Vote and I assure you I'll be campaiging hard to Repeal the Eighth Amendment as well as other existing inequalities. 
Liam Fay writes; 
"Ivana first came to national prominence in 1989 when, as president of Trinity Students Union, she was one of four student leaders taken to court by SPUC for providing information on all pregnancy options including abortion. That pregnant mother of all battles was only finally resolved in February of this year with a Supreme Court ruling which effectively decreed that the injunction brought by SPUC against the students was unlawful.
Much to the relief of the students unions involved, the enormous costs of the mammoth seven-and-a-half-year case were divided between themselves and SPUC thus averting what would have been certain financial ruin for the students unions."
- See more at: http://www.hotpress.com/Ivana-Bacik/politics/frontlines/BACIK-TO-BASICS/392676.html#sthash.GAIK4IpS.dpuf 
http://www.hotpress.com/Ivana-Bacik/politics/frontlines/BACIK-TO-BASICS/392676.html