Seanad Update: Justice and Equality week!
Posted on December 11, 2015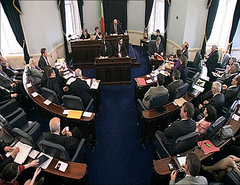 Seanad Update: Human Rights - Justice and Equality week!
7-11th December, 
As we draw closer to the end of a busy term and break for Christmas, it's been all hands on deck as we have been sitting every day and till late most evenings, debating and voting on important legislative measures. Having raised many of the issues myself and called for debates on Direct Provision or the regulation of legal services as a couple of examples, it is great that we are getting the opportunity to discuss the matters, table the amendments and sign off on a wide of range of important legislative pieces. We've had a number of Ministers from different departments join us in the Seanad chamber but this week we have seen a huge raft of Justice and Equality Bills being proposed, debated and amended, here a few examples.
Criminal Justice (Burglary of Dwellings) Bill 2015
Prisons Bill
International Protection Bill 2015 (Direct Provision)
Courts Bill
Legal Services Regulation Bill 2015
Criminal Justice (Sexual Offences) Bill 2015    
Check out the 'Legislation' section of this website to see the full transcripts and other debates.