End of term - busy schedule and lots on the agenda!
Posted on December 04, 2015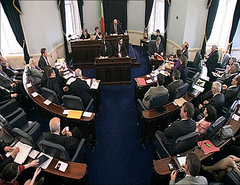 End of term - busy schedule and lots on the agenda!
This time of year is always busy as we wrap up before the Christmas holidays and there is much on the Seanad, Dáil and Committee agenda's. Here are a few issues I raised this week in the Order of Business, 1-3rd December 2015
The House recently concluded a debate on the Climate Action and Low Carbon Development Bill, which was very welcome, but in the new year I would like us to have a debate on how best to implement the policy in the Bill and how best to ensure we meet our targets in light of whatever decisions are made in Paris. I know all colleagues will want to join in expressing hope for a positive and effective agreement among the international leaders represented in Paris. I welcome the speech by the US President, Barack Obama, at the Paris summit yesterday, where he pointed out that the Paris conference is a potential turning point for us in respect of curbing global warming. We are at a critical point to try to ensure we do not see it take hold, with the dire consequences we all know will occur. I concur with Senator Ó Murchú's comments on Ireland's role in this. Clearly, it will be difficult for us to seek to meet the 20% reduction by 2020, particularly because of our agricultural emissions, but we have a duty to ensure that we try to meet these targets.

I welcome the Northern Ireland High Court decision yesterday, by Judge Mark Horner, in a case taken by the Northern Ireland Human Rights Commission. The judge found a breach of Article 8 of the European Convention on Human Rights in respect of the failure to provide for abortion in cases of fatal foetal abnormality and rape. Clearly, there are implications for this jurisdiction, but the Leader has agreed already to a debate on that in the new year.

  I support those colleagues who called for a debate on school admissions policy, especially on the need to end the practice of allowing schools to discriminate on the basis of religion. I have worked on this for many years with the multi-denominational schools patronage group and Educate Together. I am glad to speak at the Education Equality launch at the end of next week. Education Equality is a new organisation set up by a group of parents who are concerned about this issue. I know that the Tánaiste, Deputy Joan Burton, has made a welcome commitment on behalf of the Labour Party that we will seek to end the baptism barrier for school entry and to double the number of multi-denominational schools. Some of the ground work has been done by the current Minister for Education and Skills, Deputy Jan O'Sullivan, and the former Minister, Deputy Ruairí Quinn, in establishing the national Forum on Patronage and Pluralism in the Primary Sector. However, it has been very slow and I hope we will see a change in that. I support colleagues who call for that debate, although I am conscious that it will not happen until 2016.

I support Senator Daly's call for a debate on the regularisation of the undocumented Irish in the United States. I know he has worked on this issue for a long time and I absolutely agree that it is a pressing matter for many families. There are two related topics that this House may have a chance to debate in the new year. The first concerns stateless persons. I raised this last night in the debate on the International Protection Bill and it will be raised again on Committee Stage of that Bill today. We need to make provision in the State for those who are stateless here and whose legal position is precarious. The second related topic, which does not come up in discussions of international protection but is very much related to the subject of the undocumented Irish, is votes for emigrants - those Irish citizens resident outside this jurisdiction. Colleagues who were involved in the Constitutional Convention will recall the very moving session during which we heard from Irish emigrants all over the world via video link. They spoke about how much it would mean to them to be given the right to vote. The proposal to allow them the right to vote in presidential elections would have had no difficult logistical implications in terms of determining geographical constituencies and so on. I would like the House to have a debate on that in the new year and to look at the recommendation of the Constitutional Convention.

  I have looked at the Bills to be debated next week in this House, and the Courts Bill 2015 and the Prisons Bill 2015 are hugely important Bills which I believe will receive a broad welcome from all colleagues. The aim of the Courts Bill 2015 is simply to increase the number of judges and, in particular, to reduce the waiting time for Central Criminal Court trials. Colleagues may know that the President of the High Court has recently appointed a fifth judge to the Central Criminal Court because there is an 18-month delay. This is appalling for people who are victims of crime and for all of those involved in prosecuting and investigating crime. It is simply untenable, and I welcome the fact that the mechanism will be put on a statutory basis and the number of judges increased - by just two, I understand - to tackle these dreadful waiting times. That Bill will be uncontentious and is clearly urgent, and I welcome it. The Prisons Bill 2015 is also a short Bill which will receive a broad welcome from colleagues. It is to facilitate the complete closure of Saint Patrick's Institution. One of the real achievements on penal reform by this Government has been the phasing out of the awful practice of sending children to Saint Patrick's Institution. To see a Bill which will facilitate the complete closure of that institution will be hugely welcome to all of us who have worked on criminal justice, penal reform or children's rights. The Bills are important and I absolutely believe that this House needs to see them though as soon as possible.