Five weeks to go...
Posted on November 13, 2015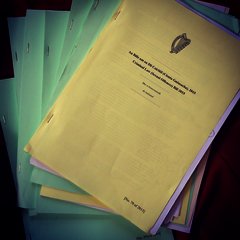 With just five weeks for the legislative programme up to Christmas I'm keen to see a number of urgent Bills passed and issues debated in both Houses #GettingDownToBusiness 
Senator Ivana Bacik, Order of Business, Thursday 12th November 2015.
'Yesterday, the justice committee had a two and a half hour meeting with the Garda Commissioner, Ms Nóirín O'Sullivan, in the course of which she answered a huge number of questions on an array of issues around policing. They covered a wide range of pressing matters, including gangland crime, drugs policy, firearms and so forth. There is a great deal of material from that meeting which we could explore further in a debate in this House on policing. In addition, when will the policing authority Bill finally be passed? It is an urgent Bill.
  With regard to legislation, when is the Criminal Law (Sexual Offences) Bill due back before the House? It passed Second Stage in the Seanad and there are only five weeks for the legislative programme up to Christmas. I am hopeful, as are other colleagues, that the Bill could be passed by this House by Christmas at the latest, so it can progress through the Dáil in advance of the general election. It is a very important and reforming Bill which, among other things, reforms the law on prostitution. It is important that it is passed. In addition, the Equality (Miscellaneous Provisions) Bill, which was initiated in the Seanad and seeks to amend section 37 to prevent discrimination against gay and lesbian people in the teaching profession, is another Bill that I hope will be passed by the Dáil by Christmas. It has been passed by this House...
Perhaps we could have a debate in the House on gender equality at some point. Given the legislative programme it might be difficult to find the time, but in recent months there has been much momentum behind the campaign to repeal the eighth amendment, which I have been happy to support for many years. It would be good to debate the repeal of the eighth amendment, the need for gender equality in the arts and in other areas of public life, and the gender quota legislation, about which issues have been raised in recent weeks. That was very important legislation that was initiated in this House. I hope we can have that debate in due course.'