Burren Law School 2015
Posted on May 05, 2015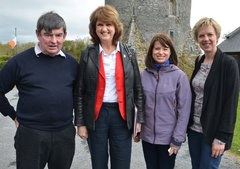 Burren Law School 2015 - 'Privacy in the 21st Century'
May 1-3, 2015
Another great gathering in Ballyvaughan, Co. Clare of legal minds, literary giants, NGO workers, historians, politicians, educators, artists and many more. The Burren Law School is an annual conference which aims to recreate the tradition of legal learning associated with the Brehon Law Schools, allowing the past to illuminate the present in what is characteristically a very stimulating weekend. 
This year the working title was 'Privacy in the 21st Century', we had some great discussions,  illuminating presentations and were honoured to have such guest speakers as;
Dermot Bolger, Poet & Playwright
Dr. TJ McIntyre, Chair of Digital Rights Ireland and lecturer in Law, UCD
Emily Logan, Chief Commissioner of the Irish Human Rights and Equality Commission
Hon. Mr Justice George Birmingham, Judge of the High Court
Joan Burton, T.D., Tánaiste and Leader of the Labour Party
Karlin Lillington, Irish Times
Mary Kenny, Journalist, Author & Irish Independent columnist
Professor Donnchadh O'Corráin, MA, DLitt (MRIA), Emeritus Professor of Medieval History, University College Cork
Professor Elizabeth Fitzpatrick, Associate Professor, Department of Archaeology NUI Galway
Professor Ruairi O hUiginn, NUI Maynooth.
Read below the facinating insight of privacy from a political perspective shared with us by Tánaiste Joan Burton:
PRIVACY A POLITICAL PERSPECTIVE JOAN BURTON TD, TÁNAISTE BURREN LAW SCHOOL – MAY 2nd 2015
The right to privacy was famously described in the Harvard Law Journal in 1890 as "the right to be left alone".
As ever in life, nothing is ever quite that straightforward.
More often than not there are competing rights or competing rights and duties.
I will come back to some of the general principles later on but for the moment I would like to share with you one particular example of competing rights which has been preoccupying me in recent months.
For many years adoption in Ireland happened very much in the shadows. For decades after the establishment of the State there was little or no regulation of adoption.
Children were put up for adoption, often against the will of the mother, usually under the auspices of religious bodies, without legal protection for them or their adoptive parents.
The birth mother was told that her identity would be kept secret and would never be disclosed to her child, or anyone else.
In recent years, there has been a marked change of view on this question. Mechanisms have been set up to facilitate an adopted child in making contact with his or her birth mother.
I, myself, went in search of my story and the answers to the perennial Irish questions – Who are you? Where are you from?
In my case, after three decades of searching, it was only in the late 90's, as attitudes changed, that I was successful in tracing cousins, aunts and uncles.
Unfortunately, by then both my birth parents were dead.

At present, contact can only be established if both parties agree. If a birth mother doesn't want to disclose her identity, she is not obliged to do so.
I believe this proposition is no longer tenable.
In my view, it is an essential part of a child's identity that they should be entitled to know who their mother is.
Children have a right to their identity.
This right is set out in Article 8 of the European Convention on Human Rights.
I do accept that the child's right to information must be balanced against the birth mother's right to privacy and striking that balance is sensitive and legally difficult.
That said, I am convinced that we must deal with this issue and I expect that this Government will legislate before the end of this term. We have made substantial progress on this matter in recent months and I hope that we will have a Heads of Bill soon.
We could perhaps tag it as 'Philomena's Law' in honour of the remarkable efforts of Philomena Lee to promote this issue through the book and film she made with journalist Martin Sixsmith.

The title of my talk this afternoon is "Privacy in the 21st Century – a Political Perspective". I will certainly attempt offer that perspective but I would also like to offer you a "Politician's Perspective on Privacy" – which is not quite the same thing, but I hope it adds something to our conversation.
Whether they like it or not, politicians have to be likeCaesar's Wife. They must be above suspicion and be seen to be above suspicion.
It can an oppressive requirement as suspicions are easily aroused and can be provoked in a casual and reckless way as happened in recent months by the use of Dáil privilege.
As a general rule politicians don't like to be thought of as different from the rest of the population.
But there is one essential difference which marks out politicians as different.
We are public representatives.
Our working lives are lived out in public.

I attend public meetings, I canvass in the public street, I speak to the press most days.
I deal with the public's business every day of every week.
I am answerable to the public.
In that sense I am a very public person.
But that does not mean that I want all of my life to be public, all of the time.
Politicians are entitled to a private life. They and their families are entitled to be free from intrusion when they are not about the public's business.
They are, at least some of the time, entitled to be left alone.
As a general rule this right to privacy has been reasonably well observed in Ireland.
Experience elsewhere, is to say the least of it, diverse.
In April 2013 French President Francois Hollande decreed that all his Ministers had to make a public declaration of the value of their assets including the family home. A dedicated website was established to publish this information at a specified time.

Needless to say, the website was inundated with hits within moments as details emerged of fine houses, fine wines, fine art , antique furniture of great value and some mundane items such as bicycles and canoes not to mention the shocking revelation that a Green Minister was the owner of a 1999 Renault Twingo!
One sociologist remarked at the time that French people found it "much more difficult to talk about money than about sex".

Indeed one MP complained that to reveal his wealth was like asking him to "show off his wife naked".

The motivation for this policy was the resignation of the then Budget minister. This man had been given responsibility to root out tax evasion but was foundhimself to have his money in a clandestine Swiss bank account.

In Britain, MPs have to disclose their private earnings but not their total worth. Some indeed earn quite eye watering sums from extra parliamentary careers not least the ultra- left MP George Galloway who owned up to an annual income of £300,000 last year from broadcasts in Arab states.
In Ireland we take a more limited approach. TDs and Senators have to reveal sources of income outside of politics but they are not obliged to disclose the amountthey earn. They must disclose properties apart from the family home but not their value.

Interestingly, in the USA politicians are quite eager to reveal all. Some of you may recall episodes of the West Wing where the accounts of politicians were perused to see if they showed evidence of future intent such as possible retirement or a run for national office.

To have a sturdy bank balance is a badge of honour that could frighten off a potential rival, while a more modest one shows weakness and could signal to a rival or predator that a seat may become vacant.
Information about financial wealth is one thing. The public's right to know about more intimate personal matters is quite another.
Should private matters be revealed as genuinely matters of public interest or merely as matters in which the public is interested more from curiosity or even vulgar nosiness?

I had to struggle with this myself in the early part of my political career. My personal background is now well enough known but that was not the case when I first sought election as a TD in 1992 and then, when elected, became a Junior Minister.


My adoptive parents, the Burtons, told me I was adopted at an early age. I grew up in a very working class area, Stoneybatter, where people lived in small houses.
The neighbours knew about it.
My friends and family knew. It was an open secret.
But, I didn't talk much about it and it would only have been known to a small number of people in myconstituency when I became a Dáil candidate.

Frankly, I hardly ever thought about it and no one raised it with me in my first Dáil term. However, I was often quite nervous that the story would become known to some media people who might twist the story in a waythat might embarrass both me and people connected to my birth family who I had not been able to trace at that time.
In the late 90's, with the arrival of American adoptees home, the climate changed. I embarked with a renewed determination to find my personal roots and this meant quite extensive enquiries in the area where my birth mother had resided until her death.

That search widened the numbers of people who had knowledge of my background. As my political profile developed I became aware that some discreet enquiries had been made as to my personal story.

After the 2007 election I was elected Deputy Leader of the Labour Party and soon afterwards some political journalists approached me to confirm stories they had heard. I have to say the enquiries were discreet and the media people involved handled the knowledge with immense delicacy.

Eventually, I agreed to do a TV interview with Ursula Halligan and that in turn led to numerous requests for interviews which continue to this day.
Clearly I was wrong in my initial fears that newspapers might make it into a sensational story.
Nonetheless my apprehension was real.
And others have not been treated is such a sensitive way.
There is a feeling among political people that a GOTCHA mentality pervades the mass media and that many journalists are hell bent on finding a story that will make headlines even when no evident public interest is at stake.
I think it is right that newspapers remain constantly on alert for any signs of improper behaviour by political leaders.
We have now again in place, thanks to Brendan Howlin, a renewed and robust Freedom of Information Act that is an immensely valuable tool for the genuine investigative journalist. But I would feel more comfortable if there was less of an underlying atmosphere that the sole aim of this type of journalism is to breed a viewpoint that the entire political system is riddled with corruption.
There is a widespread view that politicians enter politicsto line their own pockets.

This view is fed by some journalists – and I do want to stress that it is a minority - and media outlets who write and publish stories about the personal circumstances of politicians. Sometimes they do this out of prurience; often it is done because it is good gossip, a good story if you like. Sometimes it is done to damage the individual or the Party she/ he represents.

There are some politicians who are "in it for themselves" but the vast majority are not.
These stories do enormous damage to politics. Theycreate an impression of the political system and politicians which discourages many fine people from putting themselves up for election.
Our politics is the poorer for that.

Needless to say, there is a balance to be struck.
A free democracy requires a free press. It is inevitable that the press will feel entitled, even obliged, to scrutinise the lives of politicians and to expose them to the public view.
I understand that, and I accept that - up to a point.

I fully accept that the lifestyle of a politician may well inform his or her view on matters of public interest. It may be that, aspects of a politician's life that would normally be regarded as "private" are in fact, hypocritical and inconsistent with what he or she is saying in public.
For example, I think it is reasonable, even obligatory, to disclose if a politician is a tax cheat. I think that any politician who preaches family values and behaves differently in private does so at their peril.

But that does not mean that I think the private lives of politicians, or indeed other public persons, are just fair game. Surely there should be some onus on those who would intrude on the private lives of others to justify the intrusion?

That applies also to the State which intrudes, sometimes with good reason, sometimes not.

In fact, the State has been the defendant in several of the most notable Irish privacy cases.

•
In 1973, the Supreme Court found in the McGee case that the prohibition on contraception was an infringement of the right to marital privacy.
•
In 1984 David Norris cited the right to privacy in his effort to overturn the legal ban on homosexual acts.

•
In 1987 Bruce Arnold and Geraldine Kennedy succeeded in establishing that their right to privacy had been infringed when agents of the State eavesdropped on their phone calls.

My view on this is straightforward.
If the State is going to intrude into the private lives of its citizens it needs to be able to show good reason for that intrusion.

Often there is a good reason

The state needs access to details of citizens' finances in order to provide services. I know this from my experience in the Department of Social Protection.
The Department would be unable to deliver many of its services if it did not have access to citizens' personal details. The flip side is that the Department is not entitled to disclose those details to third parties unless there is a very good reason.

The state needs personal details in order to be fair – fair to individual citizens and fair as between groups of citizens. For example the Revenue needs personal information so as to ensure that all taxpayers are treated equally and fairly.

The State also needs access to information in order to combat crime and to ensure the security of the State. It is inevitable that this will infringe on the privacy of individual citizens.

The essential point is that the onus to justify intrusion should always be on the State.

In this particular David and Goliath we need to do whatever we can to level the playing field.

So what can we do to level the playing field?

•
We can set out in law or regulations restrictions on what the State can do with our personal information such as our PPS numbers. The Data Protection Act is an example of a law that sets out to do this.

•
we can provide for oversight of any information sharing.

•
we can ensure that people have easy access to information relating to them, which is retained by public bodies.
I suspect there is a public impression that the Freedom of Information Act is used mainly by journalists chasing stories. In fact over 80 percent of FOI requests come from individuals looking for personal information.

The big question is whether we should explicitly create a criminal offence of breaching privacy or for that matter whether we should create a statutory right to sue for breach of privacy rights and receive damages if successful.
The Courts have recognized a constitutional right to privacy but there is no free standing statutory right.
As a result there are few enough cases brought and there is a lot of uncertainty about the law.
I know that the Law Reform Commission has recommended that we create a statutory right of action, a measure that would be pretty challenging to achieve.

There are very divergent views of what constitutes privacy.
Some people who have no difficulty in sharing personal information through Facebook or Instagram.

In theory, users can restrict their posts to "friends" but, when many young people have hundreds, if not thousands of so-called "friends", it is difficult to see how this could be in any way "private", no matter how you define the word.

Or, to put it another way, if individuals open the digital door into their private lives it is difficult to see how you can stop some uninvited guest from stepping through the door.

It is one thing to use social media and new technology in infringe on someone's privacy. It is a further step again to use social media and the internet to abuse, harass and intimidate other people.
People in public life, politicians, commentators, celebrities or indeed ordinary citizens who express an opinion in public are now regularly subjected to a measure of vile abuse which is simply unacceptable.

Anyone in public life must accept criticism and when comment can be made anonymously with great ease, it is inevitable that some of that criticism will be personal in nature.
But the abuse, the personal insults, the threats which appear to be almost routine these days goes well beyond acceptable criticism. Much of it is intimidation and incitement to hatred and in some cases incitement to violence. This is simply not acceptable

I know that existing legislation does allow for prosecution in cases of this kind but there seems to be a marked reluctance to prosecute.
I wonder why this is the case.
If this reluctance is due to weakness or inadequacy in the law, then, in my view, this must be addressed.
In conclusion, might I say this.
In recent years the private space which individuals enjoy has been shrinking fast. Information technology,and the way it is used, is the principal reason for this, but not the only one.
Much of this is for the good.
But it is not all good.
The State has a role to play in ensuring that individuals retain some control over their private space. But the State cannot do this alone. Others will have to accept their responsibilities.

And we must all be vigilant. One part of that vigilance is served by events such as this school and I want to thank you once again for inviting me to attend.
- See more at: http://www.merrionstreet.ie/en/News-Room/Speeches/PRIVACY_A_POLITICAL_PERSPECTIVE_JOAN_BURTON_TD_TANAISTE_AND_LEADER_OF_THE_LABOUR_PARTY_BURREN_LAW_SCHOOL_%E2%80%93_MAY_2nd_2015.html#sthash.jMHl1CG2.dpuf