'Bringing ESC Rights Home' - Amnesty Ireland Report launch
Posted on October 08, 2014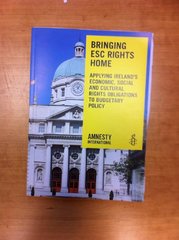 Today I attended the launch of the Amnesty International Ireland Report on ESC Rights, 'Bringing ESC Rights Home'.
Following the launch I used the opportunity through the Order of Business to ask the Leader to arrange a debate highlighting the economic, social and cultural rights that Amnesty Ireland have reported on.
Order of Business - 8/10/14
The report, Bringing ESC Rights Home, examines at how ESC rights and obligations may be applied to budgetary policy and recommends that the Government establish a minimum level of protection for all economic, social and cultural rights. We had a good debate on ESC rights at the Constitutional Convention. On foot of that debate there was a strong majority recommendation from the convention that the Government should give constitutional protection to ESC rights. The report from Amnesty International is part of a process of seeking to ensure greater protection for these rights.
In advance of next week's budget the ESRI has also recommended that we should see investment by the Government in social housing, given the strong growth figures for this year and predicted for next year. I ask the Leader that we might have a debate broadly on ESC rights, on the Amnesty report, and indeed on the report of the Constitutional Convention.
http://oireachtasdebates.oireachtas.ie/debates%20authoring/debateswebpack.nsf/takes/seanad2014100800003?opendocument#B00200